Leveler
is the fourth LP by
August Burns Red
. The lyrics of the songs on it are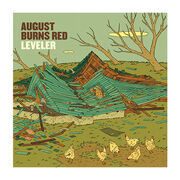 of Christian thematic and the music genre is
Metalcore
. The album was produced and mixed
Jason Suecof
.
Tracklisting
Edit
Empire
Internal Cannon
Divisions
Cutting The Ties
Pangaea
Carpe Diem
40 Nights
Salt & Light
Poor Millionaire
1/16/2011
Boys Of Fall
Leveler
Deluxe Edition (Bonus Tracks)
Edit
13. Internal Cannon (Acoustic Version)
14. Pangaea (Cover by The Bells)
15. Boys Of Fall (Cover by Zachery Veilleux)
16. Empire (Midi Version)
Empire
Internal Cannon
Divisions
Poor Millionaire
1 people own this album. 

If you own this album, change the number to one higher!

Ad blocker interference detected!
Wikia is a free-to-use site that makes money from advertising. We have a modified experience for viewers using ad blockers

Wikia is not accessible if you've made further modifications. Remove the custom ad blocker rule(s) and the page will load as expected.