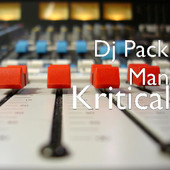 Kritical
is the first and last studio album by DJ Pack-man before he changed his name to Erixeya on July 2. It was released in February of 2012.
Tracklisting
Edit
1. Hate and Intoletrance - 8:50
2. General Meep's Army - 7:06
3. Kritical - 4:52
4. Caos Eterno Y Lluvia De Chocolate - 4:32
5. Cooler and Faster (feat. Mrarkon) - 3:00
6. Dundee (feat. Meeperz) - 4:18
Release Info
Edit
Distributor: TuneCore
Distribution Market(s): NO LONGER AVAILABLE!!!
Pricing: N/A
Copyright: CherryGhostal Recordings , TuneCore , DJ Pack-man , Meeperz
Collaborations
Edit
7 people own this album. 

If you own this album, change the number to one higher!

Ad blocker interference detected!
Wikia is a free-to-use site that makes money from advertising. We have a modified experience for viewers using ad blockers

Wikia is not accessible if you've made further modifications. Remove the custom ad blocker rule(s) and the page will load as expected.