Koncert w studiu Radia Gdańsk
is a live album by
Graf Hotel
, and their first album under that name.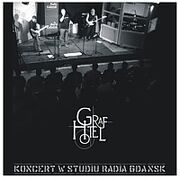 It was released on 7 January 2008.
Tracklisting
Edit
1. Zapowiedź
2. Carramba Blues
3. Ten Niby Blues
4. Gdy Gaśnie w nas płomień
5. Little Wing
6. Cocaine
7. Breathe
8. Schody Do Piekła
9. Maybe I'm Leo
10. Come Together
11. Poszedłbym za Tobą
12. Trzy Zapałki
13. When a Blind Man Cries
14. What is and what should never be
15. Whole Lotta Love
16. Smoke on The Water
Ad blocker interference detected!
Wikia is a free-to-use site that makes money from advertising. We have a modified experience for viewers using ad blockers

Wikia is not accessible if you've made further modifications. Remove the custom ad blocker rule(s) and the page will load as expected.