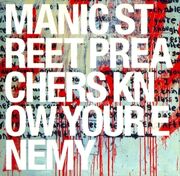 Know Your Enemy
is an album by
Manic Street Preachers
. It was released on 19 March 2001.
Tracklisting
Edit
Found That Soul
Ocean Spray
Intravenous Agnostic
So Why So Sad
Let Robeson Sing
The Year Of Purification
Wattsville Blues
Miss Europa Disco Dancer
Dead Martyrs
His Last Painting
My Guernica
The Convalescent
Royal Correspondent
Epicentre
Baby Elián
Freedom Of Speech Won't Feed My Children
1 people own this album. 

If you own this album, change the number to one higher!

Ad blocker interference detected!
Wikia is a free-to-use site that makes money from advertising. We have a modified experience for viewers using ad blockers

Wikia is not accessible if you've made further modifications. Remove the custom ad blocker rule(s) and the page will load as expected.