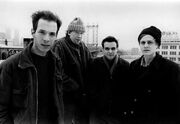 June Of 44
is an American rock band from Louisville. Their early work was strongly influenced by post rock and math rock bands such as Squirrel Bait and Slint. Near the end of their existance, they incorporated jazz, funk and electronic influences among others in their music.
Discography
Edit
Live albums
Edit
Ad blocker interference detected!
Wikia is a free-to-use site that makes money from advertising. We have a modified experience for viewers using ad blockers

Wikia is not accessible if you've made further modifications. Remove the custom ad blocker rule(s) and the page will load as expected.