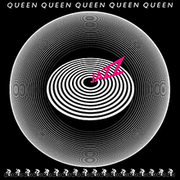 Jazz
is the seventh studio album by
Queen
, released on November 10,
1978
.
Tracklisting
Edit
Side one
No.
Title
Writer(s)
Length
1.
"Mustapha"
Freddie Mercury
3:01
2.
"Fat Bottomed Girls"
Brian May
4:16
3.
"Jealousy"
Mercury
3:14
4.
"Bicycle Race"
Mercury
3:01
5.
"If You Can't Beat Them"
John Deacon
4:15
6.
"Let Me Entertain You"
Mercury
3:01
Side two
No.
Title
Writer(s)
Length
1.
"Dead on Time"
May
3:23
2.
"In Only Seven Days"
Deacon
2:30
3.
"Dreamer's Ball"
May
3:30
4.
"Fun It"
Roger Taylor
3:29
5.
"Leaving Home Ain't Easy"
May
3:15
6.
"Don't Stop Me Now"
Mercury
3:29
7.
"More of That Jazz"
Taylor
4:16
0 people own this album. 

If you own this album, change the number to one higher!

Ad blocker interference detected!
Wikia is a free-to-use site that makes money from advertising. We have a modified experience for viewers using ad blockers

Wikia is not accessible if you've made further modifications. Remove the custom ad blocker rule(s) and the page will load as expected.