In Through the Out Door is the eighth studio album by British rock band
Led Zeppelin
. It is different from other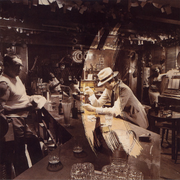 Zeppelin albums due to a much more prominent use of keyboards and less guitar. It is also the final album released before the death of drummer John Bonham and the breakup of the band. It was released on August 15, 1979.
Track Listing
Edit
In the Evening
South Bound Saurez
Fool in the Rain
Hot Dog
Carouselambra
All My Love
I'm Gonna Crawl
Personnel
Edit
Robert Plant - vocals
Jimmy Page - electric and acoustic guitars, production, gizmotron
John Paul Jones - bass guitar, keyboards
John Bonham - drums, percussion
Ad blocker interference detected!
Wikia is a free-to-use site that makes money from advertising. We have a modified experience for viewers using ad blockers

Wikia is not accessible if you've made further modifications. Remove the custom ad blocker rule(s) and the page will load as expected.