Imagine
is an album by
John Lennon
. It was released in 1971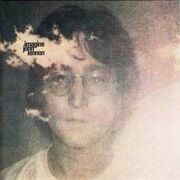 and is often called Lennon's best solo album.
Tracklisting
Edit
All songs written and composed by John Lennon, except "Oh My Love" co-written by Lennon's wife, Yoko Ono.
Side one
"Imagine" - 3:01
"Crippled Inside" - 3:47
"Jealous Guy" - 4:14
"It's So Hard" - 2:25
"I Don't Want to Be a Soldier" - 6:05
Side two
"Gimme Some Truth" - 3:16
"Oh My Love" - 2:44
"How Do You Sleep?" - 5:36
"How?" - 3:43
"Oh Yoko!" - 4:20
2 people own this album. 

If you own this album, change the number to one higher!

Ad blocker interference detected!
Wikia is a free-to-use site that makes money from advertising. We have a modified experience for viewers using ad blockers

Wikia is not accessible if you've made further modifications. Remove the custom ad blocker rule(s) and the page will load as expected.