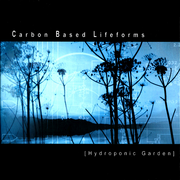 Hydroponic Garden
is the first official studio release by
Carbon Based Lifeforms
. It was released on 25 June
2003
.
Tracklisting
Edit
All tracks written by Daniel Ringström and Johannes Hedberg except:
tracks 1, 2 and 8 written by Daniel Ringström; track 10 written by Johannes Hedberg.
Central Plains [8:06]
Tensor [5:42]
MOS 6581 [7:09]
Silent Running [7:03]
Neurotransmitter [7:26]
Hydroponic Garden [9:10]
Exosphere [5:04]
Comsat [7:07]
Epicentre (First Movement) [5:56]
Artificial Island [5:10]
Refraction 1.33 [8:17]
Artwork By [Artwork And Graphic Design] – Mat Da Kat
Mastered By – Huby Sea
Other [Tracklisting By] – Carbon Boyz, Vincent Villuis
Photography [Original Pictures] – Johannes Hedberg, Marie Hedberg
0 people own this album. 

If you own this album, change the number to one higher!

Ad blocker interference detected!
Wikia is a free-to-use site that makes money from advertising. We have a modified experience for viewers using ad blockers

Wikia is not accessible if you've made further modifications. Remove the custom ad blocker rule(s) and the page will load as expected.