Highway To Hell
is an album by
AC/DC
, released in 1979.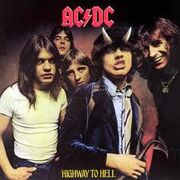 It was the last album to feature vocalist Bon Scott, who died less than a year later.
Tracklisting
Edit
"Highway to Hell" – 3:28
"Girls Got Rhythm" – 3:23
"Walk All Over You" – 5:10
"Touch Too Much" – 4:26
"Beating Around the Bush" – 3:55
"Shot Down in Flames" – 3:22
"Get It Hot" – 2:34
"If You Want Blood (You've Got It)" – 4:36
"Love Hungry Man" – 4:17
"Night Prowler" – 6:17
1 people own this album. 

If you own this album, change the number to one higher!

Ad blocker interference detected!
Wikia is a free-to-use site that makes money from advertising. We have a modified experience for viewers using ad blockers

Wikia is not accessible if you've made further modifications. Remove the custom ad blocker rule(s) and the page will load as expected.