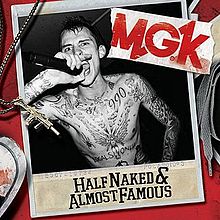 Half Naked & Almost Famous is an EP by rapper Machine Gun Kelly. It contains 5 songs, three of which feature other artists.
Discography
Edit
1. Warning Shot feat. Cassie - 3:20
2. Wild Boy feat. Waka Flocka Flame - 3:49
3. See My Tears - 4:09
4. Half Naked & Almost Famous - 2:51
5. EST 4 Life feat. Dubo and DJ Xplosive - 2:52
Ad blocker interference detected!
Wikia is a free-to-use site that makes money from advertising. We have a modified experience for viewers using ad blockers

Wikia is not accessible if you've made further modifications. Remove the custom ad blocker rule(s) and the page will load as expected.