Foxbase Alpha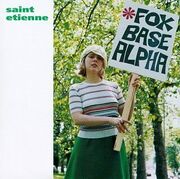 is the first album by
Saint Etienne
.
Tracklisting
Edit
This Is Radio Etienne
Only Love Can Break Your Heart
Wilson
Carnt Sleep
Girl VII
Spring
She's The One
People Get Real
Stoned To Say The Least
Nothing Can Stop Us
Etienne Gonna Die
London Belongs To Me
Kiss And Make Up
Like The Swallow
Dilworth's Theme
0 people own this album. 

If you own this album, change the number to one higher!

Ad blocker interference detected!
Wikia is a free-to-use site that makes money from advertising. We have a modified experience for viewers using ad blockers

Wikia is not accessible if you've made further modifications. Remove the custom ad blocker rule(s) and the page will load as expected.