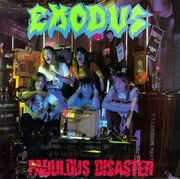 Fabulous Disaster
is the third studio album by
Exodus
. It was released in 1989 and was one of their most successful albums. It is also Exodus' best-selling release to date, with over 68,000 copies sold. The album peaked at #82 on the
Billboard
200, the same chart position as their previous album
Pleasures of the Flesh
.
Fabulous Disaster was drummer Tom Hunting's last album with Exodus until the 1997 live release Another Lesson in Violence. It was also the first Exodus album not to feature a lineup change from after one consecutive studio album, and the first time the band had not changed an album cover.
Track listing
Edit
"The Last Act of Defiance"
"Fabulous Disaster"
"The Toxic Waltz"
"Low Rider"
"Cajun Hell"
"Like Father, Like Son"
"Corruption"
"Verbal Razors"
"Open Season"
"Overdose"
0 people own this album. 

If you own this album, change the number to one higher!

Ad blocker interference detected!
Wikia is a free-to-use site that makes money from advertising. We have a modified experience for viewers using ad blockers

Wikia is not accessible if you've made further modifications. Remove the custom ad blocker rule(s) and the page will load as expected.