Edyta Bartosiewicz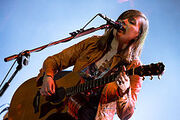 is a Polish vocalist, guitarist and songwriter, born on 11 January
1966
. She released 5 solo albums in the 1990s, and hasn't released an album of new material since 1998. She is one of the most succesful Polish female vocalists.
Discography
Edit
Ad blocker interference detected!
Wikia is a free-to-use site that makes money from advertising. We have a modified experience for viewers using ad blockers

Wikia is not accessible if you've made further modifications. Remove the custom ad blocker rule(s) and the page will load as expected.