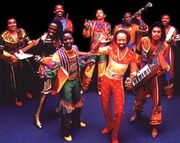 Earth, Wind & Fire
(also known as
EWF
) is a band that was formed in 1969 and has continued to release albums to the present. The band was formed by Maurice White, and the band has sold over 90 million albums and has recieved 20 Grammy nominations. Over time, EWF has had over 50 members in the band, although not at the same time. EWF performs many different genres including soul, R&B, disco, funk, rock, and jazz. The band was inducted into the Rock and Roll Hall of Fame in 2000.
Discography
Edit
Ad blocker interference detected!
Wikia is a free-to-use site that makes money from advertising. We have a modified experience for viewers using ad blockers

Wikia is not accessible if you've made further modifications. Remove the custom ad blocker rule(s) and the page will load as expected.