Dziecko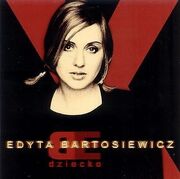 is the fourth album by Polish recording artist
Edyta Bartosiewicz
.
Tracklisting
Edit
"Jenny"
"Skłamałam"
"Nie znamy się"
"Moja ulubiona pora roku"
"Dziecko"
"Boogie czyli zemsta słodka jest"
"Coś zmieniło się?"
"Na krawędzi"
"Wśród pachnących magnolii"
"Nie jak przyjaciel"
"Słyszę jak mnie wzywasz"
"Dobrze nam"
1 people own this album. 

If you own this album, change the number to one higher!

Ad blocker interference detected!
Wikia is a free-to-use site that makes money from advertising. We have a modified experience for viewers using ad blockers

Wikia is not accessible if you've made further modifications. Remove the custom ad blocker rule(s) and the page will load as expected.