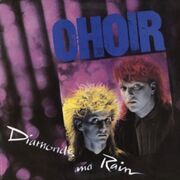 Diamonds And Rain
is the first
studio album
by Christian
Alternative
band
The Choir
. It was released by
Myrrh Records
in
1986
. The original title was to be called
Love and Fear
, but the band decided the more poetic approach, being
Diamonds and Rain
.
Tracklisting
Edit
"Fear Only You"
"Render Love"
"All That Is You"
"Black Cloud"
"I Painted Mercy"
"Kingston Road"
"Listen To Her Eyes"
"(You Do That) Triangle"
"Love Falls Down"
"When The Morning Comes"
Personnel
Edit
Derald Daugherty - Lead Vocals, Guitars
Add. Musicians
Charlie Peacock - Keyboards
Bill Batstone - Acoustic Guitars
Produced by Charlie Peacock
Engineered by Mike Mierau
Assistant Engineer - Paul Abajian
Mastered by Bernie Grundman
Art Direction - Roland Young
Photography by Nancy French
Management - Brian Martin
1 people own this album. 

If you own this album, change the number to one higher!

Ad blocker interference detected!
Wikia is a free-to-use site that makes money from advertising. We have a modified experience for viewers using ad blockers

Wikia is not accessible if you've made further modifications. Remove the custom ad blocker rule(s) and the page will load as expected.