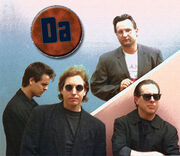 Daniel Amos
is a Christian alternative band formed in 1974. They started as a country rock style band and changed styles from punk to alternative.
Discography
Edit
Studio albums
Edit
Compilation Albums
Edit
Live Albums
Edit
Terry Taylor (1974-Present)
Greg Flesch (1984-Present)
Ed McTaggart (1976-Present)
Tim Chandler (1984-Present)
Marty Dieckmeyer (1974-1981)
Jerry Chamberlain (1974-1983)
Alex MacDougall (1978-1981)
Mark Cook (1978-1981)
Rob Watson (1982-1984)
Steve Baxter (1974-1975)
Ad blocker interference detected!
Wikia is a free-to-use site that makes money from advertising. We have a modified experience for viewers using ad blockers

Wikia is not accessible if you've made further modifications. Remove the custom ad blocker rule(s) and the page will load as expected.