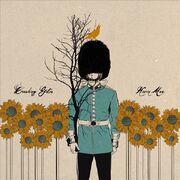 Crashing Gates
is an EP by
Kevin Max
. It was released in 2008 by dPulse Recordings.
Tracklisting
Edit
Traveler - [4:34]
Baby, I'm Your Man - [3:39]
The Saint Of Lonely Hearts - [2:07]
Future Love Song - [5:51]
Out Of The Wild - [3:42]
Crashing Gates And Passing Keepers - [6:11]
Your Beautiful Mind 2009 - [4:13]
Produced by Jonathan Smith and Kevin Max
0 people own this album. 

If you own this album, change the number to one higher!

Ad blocker interference detected!
Wikia is a free-to-use site that makes money from advertising. We have a modified experience for viewers using ad blockers

Wikia is not accessible if you've made further modifications. Remove the custom ad blocker rule(s) and the page will load as expected.