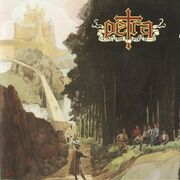 Come And Join Us
is the second album by Christian rock band
Petra
. It was released in 1977. Previously the lead singer of
Gidian's Bible
and
E Band
, singer
Greg X. Volz
joins Petra as a guest on this album. It was released on Myrrh Records, and later re-released by Word Records.
Tracklisting
Edit
1. "God Gave Rock And Roll To You" [tab]
2. "Ask Him In" [tab]
3. "Sally"
4. "Without You I Would Surely Die"
5. "Come And Join Us"
6. "Where Can I Go?"
7. "Holy Ghost Power"
8. "Woman Don't You Know?"
9. "God Gave Rock And Roll To You (Reprise)" [tab]
Personnel
Edit
Bob Hartman - Lead Guitars, Lead Vocals
Greg X. Volz - Guest Lead Vocals
Greg Hough - Guitars, Lead Vocals
External Links
Edit
1 people own this album. 

If you own this album, change the number to one higher!

Ad blocker interference detected!
Wikia is a free-to-use site that makes money from advertising. We have a modified experience for viewers using ad blockers

Wikia is not accessible if you've made further modifications. Remove the custom ad blocker rule(s) and the page will load as expected.