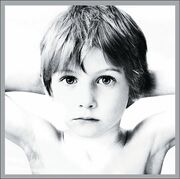 Boy
is the first album by Irish rock band
U2
. It was released on 20 October 1980 by
Island Records
. "Boy" was produced by
Steve Lillywhite
.
Tracklisting
Edit
"I Will Follow"
"Twilight"
"An Cat Dubh/Into The Heart"
"Out Of Control"
"Stories For Boys"
"The Ocean"
"A Day Without Me"
"Another Time, Another Place"
"The Electric Co."
"Shadows And Tall Trees"
"Untitled"
0 people own this album.

If you own this album, change the number to one higher!

Ad blocker interference detected!
Wikia is a free-to-use site that makes money from advertising. We have a modified experience for viewers using ad blockers

Wikia is not accessible if you've made further modifications. Remove the custom ad blocker rule(s) and the page will load as expected.