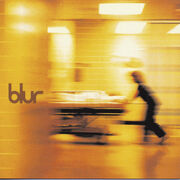 < The Great Escape | 13 >

Blur is the fifth studio album by Blur.
Tracklisting
Edit
All songs written and composed by Damon Albarn, Graham Coxon, Alex James and Dave Rowntree, except where noted.
1.
"Beetlebum"
5:04
2.
"Song 2"
2:02
3.
"Country Sad Ballad Man"
4:50
4.
"M.O.R." (Albarn/David Bowie/Coxon/Brian Eno/James/Rowntree)
3:27
5.
"On Your Own"
4:26
6.
"Theme from Retro"
3:37
7.
"You're So Great"

(Coxon)

3:35
8.
"Death of a Party"
4:33
9.
"Chinese Bombs"
1:24
10.
"I'm Just a Killer for Your Love"
4:11
11.
"Look Inside America"
3:50
12.
"Strange News from Another Star"
4:02
13.
"Movin' On"
3:44
14.
"Essex Dogs"

(includes hidden track "Interlude")
1 people own this album. 

If you own this album, change the number to one higher! 

Ad blocker interference detected!
Wikia is a free-to-use site that makes money from advertising. We have a modified experience for viewers using ad blockers

Wikia is not accessible if you've made further modifications. Remove the custom ad blocker rule(s) and the page will load as expected.