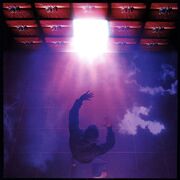 Beat The System
is a studio album by
Petra
. It was released in 1984 by Star Song Records.
Tracklisting
Edit
Beat The System [4:24]
Computer Brains [4:01]
Clean [3:02]
It Is Finished [3:54]
Voice In The Wind [4:31]
God Gave Rock And Roll To You [3:54]
Witch Hunt [4:35]
Hollow Eyes [4:03]
Speak To The Sky [4:18]
Adonai [4:42]
Personnel
Edit
Greg X. Volz - Lead Vocals
Bob Hartman - Guitars
Mark Kelly - Bass, Synth-Bass
Louie Weaver - Drums, Percussion
John Lawry - Keyboards
Background vocals by Bob Hartman, Mark Kelly, and John Lawry
Produced, Recorded, and Mixed by Jonathan David Brown

Assisted by Todd Van Etten, J.T. Cantwell, and Don Cobb

Mastered by Steve Hall
Arrangements by Jonathan David Brown and Carl Marsh
Vocal arrangements by Jonathan David Brown and Greg X. Volz
Fairlight synthesizer programming by Carl Marsh

Additional synthesizer programming by John Lawry
Additional Fairlight programming by Rhett Lawrence

Cover concept and Photography by Robert Peak, Jr.
Graphic design by Lori Cooper
Electronic photo retouching by David Hix
External Links
Edit
1 people own this album. 

If you own this album, change the number to one higher!

Ad blocker interference detected!
Wikia is a free-to-use site that makes money from advertising. We have a modified experience for viewers using ad blockers

Wikia is not accessible if you've made further modifications. Remove the custom ad blocker rule(s) and the page will load as expected.