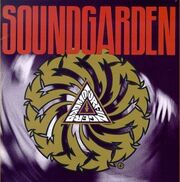 Badmotorfinger
is the third studio album by
Soundgarden
. Released in 1991 on A&M Records, it was their breakthrough album.
Track listing
Edit
Rusty Cage
Outshined
Slaves & Bulldozers
Jesus Christ Pose
Face Pollution
Somewhere
Searching With My Good Eye Closed
Room a Thousand Years Wide
Mind Riot
Drawing Flies
Holy Water
New Damage
0 people own this album. 

If you own this album, change the number to one higher!

Ad blocker interference detected!
Wikia is a free-to-use site that makes money from advertising. We have a modified experience for viewers using ad blockers

Wikia is not accessible if you've made further modifications. Remove the custom ad blocker rule(s) and the page will load as expected.