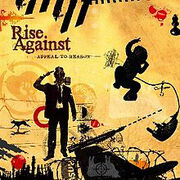 Appeal to Reason is the fifth studio album of the American Punk Rock band Rise Against. The three singles released before the complete album was buyable were "Re-Education (Through Labor)", "Audience of One" and "Savior".
Tracklist
Edit
Collapse (Post-Amerika) - 3:19
Long Forgotten Sons - 4:01
Re-Education (Through Labor) - 3:42
The Dirt Whispered - 3:09
Kotov Syndrome - 3:05
From Heads Unworthy - 3:42
The Strenght to Go On - 3:27
Audience of One - 4:05
Entertainment - 3:34
Hero of War - 4:13
Savior - 4:02
Hairline Fracture - 4:2
Whereabouts Unknown - 4:02
Ad blocker interference detected!
Wikia is a free-to-use site that makes money from advertising. We have a modified experience for viewers using ad blockers

Wikia is not accessible if you've made further modifications. Remove the custom ad blocker rule(s) and the page will load as expected.