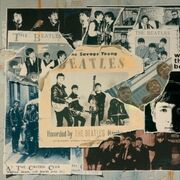 Anthology 1 is the first of the three part Anthology series by The Beatles. It contains rarities, live performances and outtakes from the years 1958 through 1964. It includes tracks with former members Stu Stucliffe and Pete Best. The album was released on 20 November 1995 by Apple Records.
Track listing
Edit
All tracks in stereo and written by Lennon–McCartney except where noted.
Disc one
"Free as a Bird"
"We were four guys ... that's all" (Lennon speaking to Jann Wenner)
"That'll Be the Day"
"In Spite of All the Danger"
"Sometimes I'd borrow ... those still exist" (McCartney speaking to Mark Lewisohn)
"Hallelujah, I Love Her So"
"You'll Be Mine"
"Cayenne"
"First of all ... it didn't do a thing here" (McCartney speaking to Malcom Threadgill)
"My Bonnie"
"Ain't She Sweet"
"Cry for a Shadow"
"Brian was a beautiful guy ... he presented us well" (Lennon speaking to David Wigg)
"I secured them ... a Beatle drink even then" (Brian Epstein from A Cellarful of Noise)
"Searchin'"
"Three Cool Cats"
"The Sheik of Araby"
"Like Dreamers Do"
"Hello Little Girl"
"Well, the recording test ... by my artists" (Epstein from A Cellarful of Noise)
"Bésame Mucho"
"Love Me Do"
"How Do You Do It"
"Please Please Me"
"One After 909"
"One After 909"
"Lend Me Your Comb"
"I'll Get You"
"We were performers ... in Britain" (Lennon speaking to Jann Wenner)
"I Saw Her Standing There"
"From Me to You"
"Money (That's What I Want)"
"You Really Got a Hold on Me"
"Roll Over Beethoven"
Disc two
"She Loves You"
"Till There Was You"
"Twist and Shout"
"This Boy"
"I Want to Hold Your Hand"
"Boys, what I was thinking..." (Eric Morecambe and Ernie Wise speaking to The Beatles)
"Moonlight Bay"
"Can't Buy Me Love"
"All My Loving"
"You Can't Do That"
"And I Love Her"
"A Hard Day's Night"
"I Wanna Be Your Man"
"Long Tall Sally"
"Boys"
"Shout"
"I'll Be Back"
"I'll Be Back"
"You Know What to Do"
"No Reply"
"Mr. Moonlight"
"Leave My Kitten Alone"
"No Reply"
"Eight Days a Week"
"Eight Days a Week"
"Kansas City/Hey-Hey-Hey-Hey!"
1 people own this album. 

If you own this album, change the number to one higher!

Ad blocker interference detected!
Wikia is a free-to-use site that makes money from advertising. We have a modified experience for viewers using ad blockers

Wikia is not accessible if you've made further modifications. Remove the custom ad blocker rule(s) and the page will load as expected.