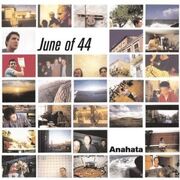 Anahata
is the fourth and final studio album by
June Of 44
. It is often called the band's most experimental, incorporating jazz, funk and electronic influences while still retaining their math rock sound. The album was released on 8 June 1999.
Tracklisting
Edit
Wear Two Eyes (Boom) [4:52]
Escape of the Levitational Trapeze Artist [4:41]
Cardiac Atlas [5:08]
Equators to Bi-Polar [6:10]
Recorded Syntax [5:01]
Southeast of Boston [5:13]
Five Bucks in My Pocket [4:06]
Peel Away Velleity [15:12]
0 people own this album. 

If you own this album, change the number to one higher!

Ad blocker interference detected!
Wikia is a free-to-use site that makes money from advertising. We have a modified experience for viewers using ad blockers

Wikia is not accessible if you've made further modifications. Remove the custom ad blocker rule(s) and the page will load as expected.