4
is an album by
Beyoncé Knowles
, released on 24 June 2011.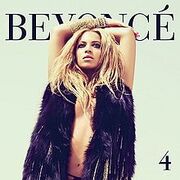 Tracklisting
Edit
1+1
I Care
I Miss You
Best Thing I Never Had
Party (feat. Andre 3000)
Rather Die Young
Start Over
Love on Top
Countdown
End of Time
I Was Here
Run the World (Girls)
Ad blocker interference detected!
Wikia is a free-to-use site that makes money from advertising. We have a modified experience for viewers using ad blockers

Wikia is not accessible if you've made further modifications. Remove the custom ad blocker rule(s) and the page will load as expected.