"Weird Al" Yankovic in 3-D is the second studio album by renowned comedy artist, "Weird Al" Yankovic. Released in 1984 and produced by Rick Derringer, this LP peaked at number 17 on the Billboard 200 charts.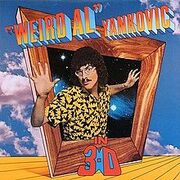 SIDE 1
Eat It
Midnight Start
The Brady Bunch
Buy Me a Condo
I Lost on Jeopardy
Polkas on 45
          SIDE 2
Mr. Popeil
King of Suede
That Boy Could Dance
Theme From Rocky XIII (The Rye or the Kaiser)
Nature Trail to Hell
Ad blocker interference detected!
Wikia is a free-to-use site that makes money from advertising. We have a modified experience for viewers using ad blockers

Wikia is not accessible if you've made further modifications. Remove the custom ad blocker rule(s) and the page will load as expected.